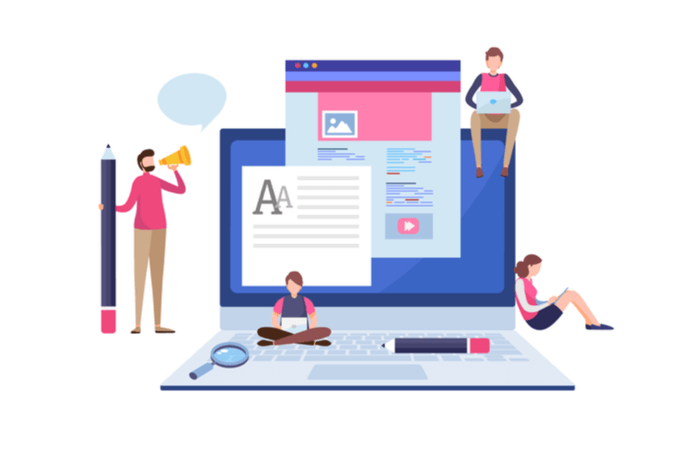 Texts surround us every day – in social media, books, advertising billboards, journals and magazines, supermarkets, and even on the back of the juice pack. Maybe you have noticed that all those letters and words are combined in different ways depending on the purpose and essence of written sentences.
We perceive any particular text differently. One of them just informs us what happened yesterday in the neighborhood. The other is filled with emotions and expressions, trying to describe the beauty of a butterfly. Along with it, various texts influence several parts of our brain (that help us consume the information, for instance, directly or sensitively.) However, let's put the basics of neuroscience off and get closer to the point of types of writing.
We will figure out the disparity between the four main types of writing, understand when and how we can use them, what is the purpose of each class, and provide some examples for better insights.
Which types of writing are primary?
Well, the most common types of writing are:
Expository
Persuasive
Descriptive
Narrative
Every marketer or journalist knows the difference between them. However, if you are a newbie in this field, this article will come in handy for you. Some people can differ these types intuitively, as the explanations of the use of kinds of writing are pretty logical and simple. Are you ready to investigate all five? So let's get started with…
Expository type
If you imagine the formality scale, the expository type will get nearly 8 out of 10 points. People use this style of writing to explain the action, process, or subject. It is expressed by the absence of emotional coloring. Still, it has to contain facts that are connected logically, as the main purpose of it is to help people understand the meaning of any particular topic or statement.
Almost all educational materials are written in the expository style. Independent of the fact that it is quite "dry" and "explanatory," you should remember that writing in the expository style is not the same as writing a flow of sophisticated terms. Even this style has to be readable for the novices.
Use the expository type in step-by-step instructions, business or educational reports, on the FAQ page when answering common questions, or even in textbooks.
Example: Yesterday, on September 4th, the local authorities fixed the record figure for the mass migration of white hares. The number of migrated animals dramatically increased in 2022 to 10,051 individuals per year. In 2021, the amount accounted for 8,231 hares per year that relocated to the South of the continent. The mass relocation of white hares this year is caused by the global deforestation in our state.
Bad example: Yesterday, Mr. K. from the local government said that there are more migrated rabbits this year. I suppose that's because of the deforestation near our town. The number of migrated hares reached nearly 10 000 this year, which is sad, but I hope they are gonna come back next year.
Mistakes: Own opinion, slang, emotional coloring.
Persuasive type
If you want to persuade the reader, choose the persuasive type of writing, obviously. Wake their motivation up. This style of writing works as a psychological trigger, so we can state that the aim of a persuasive type of writing is to inspire and force your readers to think.
The key moment while writing in a persuasive style is being honest with your readers. Do not hesitate to implement data and statistics. Quotes here are also welcome. Moreover, if you are brave enough, give the readers some jokes (but if they are not offensive) and end your text with a CTA.
You can meet the persuasive type of writing in presentations of products or ideas, motivational speeches, letters, essays, and so on.
Example: Nearly 80% of people who participated in the "Arizona Surveys" mentioned that they have trouble with backache caused by their sedentary lifestyle. However, 20% of respondents said that their overall health improved after they implemented daily workouts in their life. Stop wasting your time on procrastination, and do some exercise today!
Bad example: Someday, everyone will notice how important physical health is. Why do people not practice workouts every day? I do not have an answer for it. If they only knew how crucial it is.
Mistakes: No statistics or data is given, CTA is absent, and the tone of voice is depressing.
Descriptive type
This style of writing is the favorite one among artists and poets because a descriptive type of writing helps readers to visualize the images written by the author. Here you can feel freer in using metaphors, epithets, comparisons, and figures of speech.
You can find the descriptive style of writing in poems, novels, lyrics, and also, in most copywriting tasks.
In this type of writing, you have to pass all the feelings through yourself. When you start describing a place, a character, or nature, focus on them for a bit and go through the details. The result will impress you and your readers as well.
Example: When the pink overflow of the winter sunset spread the fresh air through Jane's window, she woke up.
Narrative type
This type of writing is the best if you want to tell a particular story. You have to provide your readers with an eye-catching plot. For example, tell a story of the success of your character. One of the most important points in narrative type is that it has to contain the introduction, the body part, and the conclusion.
You can use the narrative type of writing in novels and stories, biography, and anecdotes.
Whether the story is real or not, your aim while using the narrative style is basically to tell a story. You have to write your thoughts here, and do not hesitate to express yourself.
Example: I met Zachary two days ago. I was passing by my favorite cafe and noticed him. -Good morning, Zach -Hi, Mary And then I realized I fell in love.
Train your fantasy
Try to write the same story in different types of writing to improve your writing skills. Have a good luck in practicing with finding your favorite writing style. And remember — everything is possible!