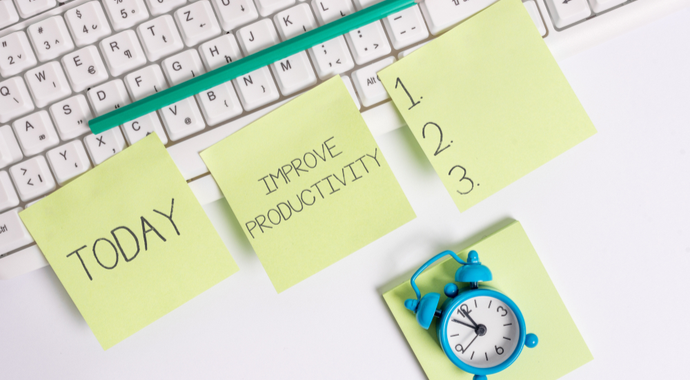 Contemplating the point – freeing the mind
What prevents you from focusing on important tasks? Let's find out now.
Pick a point on a wall, a cloud in the skies, or an object on your table and try to concentrate on it. Your attention will most likely jump from side to side, your mind is likely to generate tons of unrelated thoughts, but that's exactly what we need, don't resist it, and rather encourage it. Each time you notice that you were distracted from the point or object, take a note of what distracted you and return to the point of your concentration again.
This will create a list of things that matter to you and must either be cleaned out or taken good care of.
Indeed, observing the train of thoughts is very useful for training the mind and is one of the basic exercises in Buddhist practice. It teaches you to focus on an arbitrary object and notice the moments when you are distracted.
Removing seeds – training the brain
The first thing to do when you decide to go on a diet is to remove seeds, nuts, and a bowl of sweets from the table. For the brain, seeds and sweets are social networks and instant messengers. Therefore, as soon as a free minute is given (or not given), we grab a smartphone.
To save time and energy for your thoughts, let's make the process of consuming information more meaningful.
If you cannot avoid something – arrange it. Create one or two recurring tasks in your schedule to check social media. Don't sign out from your accounts or install software that blocks access to your accounts – it's just as ineffective as advising smokers to hide cigarettes from themselves. Just make the process more manageable.
Going down into the cave, do not forget the guiding thread. Time flies by quickly on social media. The next time you go to see what's new with your friends, set a timer for ten or fifteen minutes. When the timer rings, decide if you're ready to keep watching social media or that's enough. The timer acts as a thread that guides you back out of the cave and into the light.
Eat with your left hand. Nutritionists provide advice to make the automatic action less convenient and more meaningful. Use this trick. Remove apps that are grabbing your attention and consuming your time from your smartphone (there is even special functionality on your smartphone to analyze which apps are consuming most of your phone's resources). Do this operation regularly, as garbage apps and features tend to reappear and incrementally devour your time and life.
Digging a burrow – pursuing the dreams
You will probably easily make a list of what you would like to receive, complete, and achieve, in other words – all your wishes. Do your daily tasks bring you closer to the wish list? Let's check it out.
Read carefully a random task on your list and ask yourself "so what?"
Your mind will most likely tell you the closest result of this task. By itself, this result is hardly your wish, you need it for something. Imagine it and ask yourself again: "So what?" Continuing to ask yourself this question, you may or may not come from simple tasks to one of your "wishes".
If most of your tasks do not lead to any of your goals (in life, this happens very often), this in itself is not the end and the reason to despair. Among these tasks, there are probably many routines, everyday activities falling into the categories of "must-have" or "must-do". You should become too naïve and try to tie the task of "buying milk" to any of the wishes on your list. Also, do not think that since the task does not immediately bring you closer to any wish, it must necessarily be removed from the list. Not at all! If it does not hurt, it is worth analyzing.
Be especially attentive to the wish list or a separate task, for which not a single task was found. Remember the law of the hamster: "The one, who does not dig, has no burrow." So start digging!